Work-related stress: does your job stress you out causing your depression and anxieties? What will you do if you have a stressful career?
Your career is an important aspect of your life and you can't just easily quit. Maybe there's no need of quitting; you just need to face the problem head-on.  So here are some of the ways on how you can deal with your career anxieties.
1.Working environment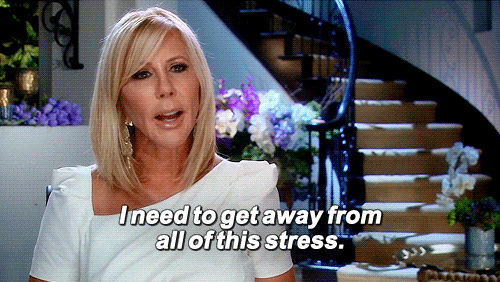 GiphyStart
Start by determining the reasons why your career makes you stressed out. It may be some aspects of your career that need a little "massaging" or you just need a break. It could also be that you really have to find a new job.
Once you identified the causes of your anxiety, develop a plan of action to combat them. Find ways to deal with your stressors and if those don't work, find a new job or change your career.
2. Career match
Giphy
Sometimes it is the career itself that is the problem. Though risky as it seems, shifting careers is common nowadays. With a lot of opportunities and accesses to education and learnings, you will not find it hard to study again and acquire training necessary for your new career.
The important thing is you determine which career best suits you.
You have a lot of options and opportunities in finding a new career that really suits your interests. If undecided on what to choose, you can take a career skills assessment examinations. This will help you determine what kind of job or career best matches your particular interests and skill sets.
You can also seek the help of career coaches or counselors who can provide you with information on various careers and guide you in choosing which career path best matches your qualifications and preferences.
Keep in mind that in choosing your new job or career, you must consider which one will give you the most satisfaction and makes you feel good about yourself.
Do not just take a job because of the salary. Look at the whole package and on where it will take you in the long-run.